With the days a bit longer and the mercury creeping up into what we'd call the "too hot to handle digits," the urge to sit underneath the air conditioner and never leave the house is an all to familiar feeling.
However, staying indoors on these warm Summer days and not enjoying your outdoor living area is not the Aussie way! BBQ's, pool parties and long nights sipping wine and reading on your comfy outdoor furniture, regardless of the temperature, is how all Australians like to live.
But how do you keep your alfresco area nice and cool for you and your loved ones, so that you can go from living in the aircon to living the true backyard lifestyle?
With a few adjustments and additions to your al fresco area, you'll be able to beat the heat and have an outdoor entertaining area that can act as an extension of your home. Providing a space for everyone to enjoy year-round.
We've put together a few ideas to help keep your alfresco area a cool space (literally and figuratively). Give these a try and you'll be well on your way to having the perfect Aussie Summer.
Have a pergola or umbrella shade installed: One of the most effective additions you can make to your outdoor space is the installation of a structure that offers shade from the Sun.
A covered patio or pergola is the most common option for outdoor living spaces, as they offer a permanent structure that can be used year-round and can be used on any sized patio. They're also a popular choice as they can be designed and styled as an extension of the home or "outdoor room", which comes complete with awnings or solid roofs.
However, for those who may be budget conscious or do not want a permanent structure the use of sun shades or patio umbrellas is a great option for shading your alfresco area. These options can also make a great addition, as they can be moved around the outdoor area, or removed completely during colder months.
Install ceiling or misting fans: For those who plan on maxing out the amount of time they spend in their outdoor living area, it will require more than just a roof over your alfresco area to stay cool.
This problem is easily solved with the addition of ceiling or misting fans (or both, if you'd like).
Ceiling fans: For those who have a permanent structure build over their outdoor entertaining area, it is a simple process to have a ceiling fan installed. While a ceiling fan doesn't lower the temp of the space, it does move the air around, tricking your body into feeling cooler than it actually is.
This is called the wind-chill effect, which is when the cool breeze from the fan brushes your skin and causes the perspiration on your body to evaporate, which in turn lowers your body temp.
Ceiling fans are a great option for any alfresco area with a permanent roof, as they are low cost and work great in any climate. Just make sure when you purchase one that it is rated for exterior use.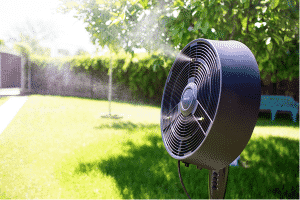 Misting fans: If you don't have a permanent structure available to install a fan, investing in a misting fan is a great a great option for your alfresco. These large floor fans have several mist jets included that disperse a fine mist along with the airflow, providing a cooling effect throughout the patio area.
Misting fans are an effective option in drier climates, but not so much where it is quite humid, as the air is already quite thick with moisture. However, on more humid days you can turn off the mist function and just use the fan.
Invest in an outdoor rug: There's nothing quite as painful as walking across hot pavers, so why not cover them up? An outdoor rug is a great investment for any outdoor area, as they provide a cool area to walk across and add to a touch of style. All weather rugs are designed to withstand a variety of climates and exposures, come in a wide variety of styles and colours, and are typically quite affordable.
While built to withstand the elements, we recommend that you store your outdoor rugs safely during heavy rain and during the winter months so that you don't have to replace them as often.
Add plants to your alfresco: Not only are they visually appealing and add privacy, but the addition of plants can help keep your outdoor area shaded and cool during the hot summer months. For those with a pergola, climbing vines such as English Ivy or wisteria are great at producing thick foliage that provides additional protection from the sun, and added privacy.
If you don't have a covered alfresco, adding potted trees like small palms or adding plants like succulents provides instant relief and adds a stylish look to the space. We recommend planting Aloe Vera, which is low care and can be used on sunburns for those days you spend too much time in the sun!
5) Choose paving that stays cool: When building your new alfresco area, choose paving that will stay naturally cool underfoot. There are plenty of stone pavers out their such as that are naturally solar resistant, meaning they don't absorb as much heat. This means that even on the warmest days they will stay cool underfoot, and keep your overall outdoor living space a cooler temp.
The two highest recommended options are limestone and travertine pavers, as they are most heat resistant. Limestone paving is a beautiful, easy to care for option, that comes in several different colours. Due to its lighter colour and porous texture is known for being the most resistant to heat, making it cool to walk across on even the hottest days. Limestone is also a popular choice for those who have an eye for design, as it can be installed in a variety of patterns and stamped designs as well, which is great for those who want a one of a kind look for their alfresco.
Travertine is also a popular option for outdoor living spaces. A natural stone as well, it has similar qualities to limestone in that it is heat resistant and a strong material. However, the variation in colours gives it a more marble like appearance. This stone is a popular choice for more modern homes, looks great in outdoor kitchens and entertaining areas, and can even be used a tiling throughout the inside of the home.
With the above tips, your alfresco area could be well on its way to being one of the most beautiful, and chilled areas of your home!
Want to know more about how you can incorporate plants and heat resistant pavers into your outdoor home design?
The team at WA Luxury Landscaping are equipped with the experience and knowledge to assist you in designing your well shaded and heat resistant alfresco area. To find out more about our services check out our website, or contact us today.